RPA Genie Co-Pilot
The RPA Genie Co-Pilot is an application created mainly to run attended automations, which allows users to interact with the robots. It enables the end users to access, control and execute automation with just a few clicks.
Co-Pilot is the host that executes the automations that we have created using the RPA Genie Studio.
Co-Pilot will be able to login to the Bot machine with a user account, and then perform the automation when it is triggered.
The RPA Genie Co-Pilot will be accessible from the System Tray.
We are able to start, pause and stop processes from the Co-Pilot.
To initiate a process, click on the play button. While the process is being executed, you will be able to pause or stop the process. (Screenshot below).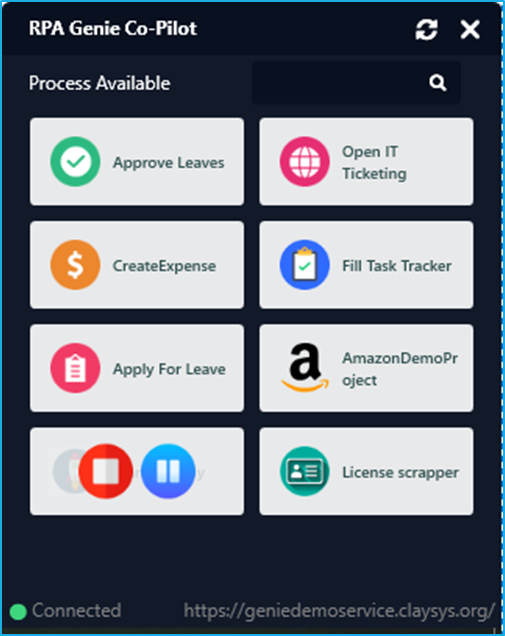 The Co-Pilot is a very user-friendly tool where all the published processes can be viewed in the Co-Pilot tray.
If we give a suitable title as per our preference for the project that we have created in the Project Settings menu, it can be viewed in the Co-pilot Tray.
There is also a feature to add an icon in the Co-pilot tray next to a process. We can upload an image for the project in the Project Settings menu.
Once the title and Icon are provided for a process, it will make it more convenient for us to select the required process.