UTM parameters are widely used in the world of digital marketing for tagging a URL and understanding the source of the traffic to that URL.
Adding UTM codes to the email link not only analyzes the potency of your marketing campaigns but also measures where the traffic to your website comes from. But how can we evaluate the effectiveness of email marketing? That's why we need to discuss how UTM codes are added to URLs to track their effectiveness. 
What are UTM codes? 
UTM codes, also known as UTM parameters, allow webmasters to identify the source of web traffic, which ultimately leads to monitor the success of different marketing strategies such as email campaigns, Facebook campaigns, or any other online marketing campaigns.  
The term UTM stands for "Urchin Tracking Module", and it was introduced by Urchin Software Corporation, which was taken into possession by Google in 2005. The UTM code is a short text that can be attached to webpage URLs. It sends additional information about each link to Google Analytics, and it usually contains information about the origin of the traffic to the website. 
For instance, let's assume that your sales get a shoot up in a month but you do not have the slightest idea about how the traffic of your site has increased, what content or which medium has contributed to the increase in traffic and thereby sales. Google analytics can shed some light on this scenario, but to dig down deeper into the campaign-level data, you'll need UTM tagging. Not having UTM tagged URLs in a campaign makes it difficult to repeat the success of a specific campaign. which means you might be wasting some valuable resources. 
How to set up UTM code in your email campaigns? 
A well-setup UTM link in email campaigns should tell you the source of the web traffic, how and why the traffic comes to the website. Common UTM parameters include:
Campaign name – to identify the name of the campaign.                  
Medium – to track the campaign medium that is the email, organic, social, or CPC (cost per click). 
Source – to identify the source of the campaign which includes a newsletter name or email. 
Content – to identify the content of the campaign in order to distinguish between multiple ads in a campaign.  
Campaign term – to identify the term or keyword used to search.
The easiest and the best way to create a UTM code is Google's URL builder which is convenient for beginners.
This is how a URL builder looks like once you fill the required fields: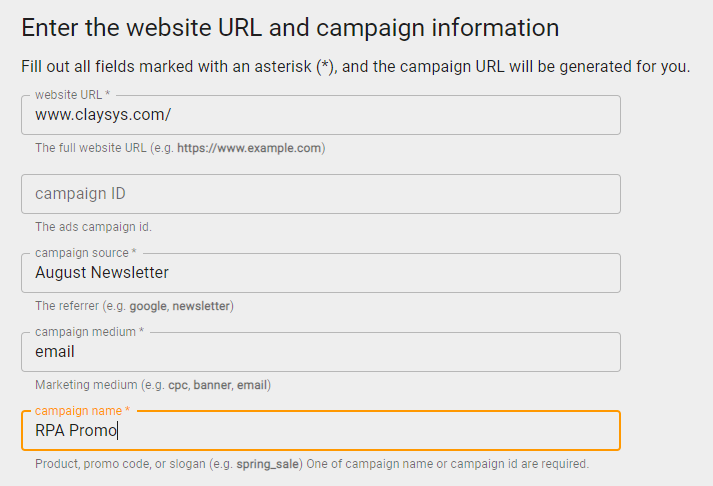 Here is what a URL looks like after UTM tagging: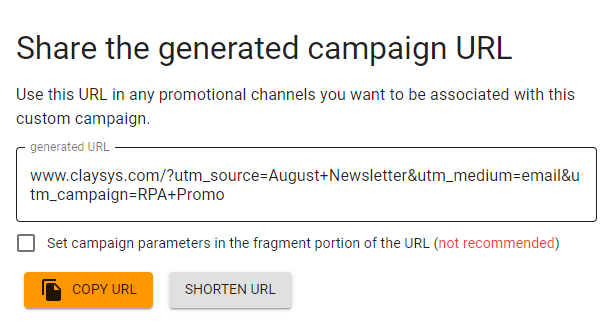 Once the link is generated, you can copy the whole link and use it in your email campaign. When the user clicks on the link containing UTM code, it facilitates Google Analytics to track the particular channels, campaign ID, sources, content, or campaign terms the customers use to visit your website.  
How to track Emails Marketing Effectiveness with UTM codes? 
After building up the email marketing campaign, one can begin adding UTM. Once you start adding UTM codes to email marketing campaign links and distribute them to your customers, you can also track emails in detail at the level of individual links.
If you are using Google Analytics then it will provide reports containing UTM data. To view the reports:
Navigate to Acquisition in the Google Analytics dashboard
Then go to All Traffics.
Select Channels under All Traffics.
Select Campaigns and go to All Campaigns.
This helps you to measure what content, campaigns, and email sources are creating more traffic in the website.
It is very much necessary to track the traffic to the website not just to understand the readers of your material but also to analyze what needs to be changed or fixed along the way.
Wrap up 
Irrespective of the size of your business, email tracking is a good practice that every business should follow. When you run email campaigns, you should be able to measure how well they work.
This allows you to enhance your future email marketing campaign because email tracking gives you good acumen about what works and what doesn't.
Furthermore, using UTM parameters for email tracking takes it to another level, providing you with a wide array of detailed information. 
To conclude, using UTM in email marketing enables you to improve marketing campaigns and to focus on spending time and money on the most effective strategy.