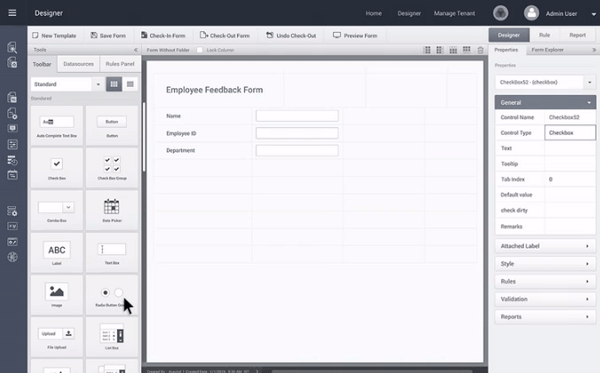 ClaySys AppForms is a low-code development platform for building apps, forms, and workflows. AppForms can be used with SharePoint, Office 365 or as a standalone version. AppForms is a powerful replacement to InfoPath and has the ability to replicate anything built using InfoPath.
Learn more about AppForms OR: Sign Up for a FREE Trial
---
AppForms Vs. InfoPath
In 2003, Microsoft introduced InfoPath with its WYSIWYG forms designer. It was an important step forward for creating electronic forms and capturing data for front-end applications like SharePoint. The door was opened to anyone who was not a professionally trained application developer to automate their own business processes. InfoPath empowered people to directly contribute impact their own businesses.
But, it fell short. As applications started to rapidly move to the cloud (ie. Microsoft Office 365), these InfoPath and SharePoint applications, many of which were extended using custom coding languages like JavaScript, .Net and others, hit a serious wall. They just simply couldn't be extended into the cloud. And in 2014, Microsoft decided to end all new product enhancements while offering support to its many users for the foreseeable future. Complex workaround with significant issues and security flaws are now required to make these millions of applications "cloud worthy."
ClaySys AppForms offers a very clean and more complete answer to solving this challenge. Consider the ClaySys AppForms No-Code Platform like InfoPath on steroids. It does everything InfoPath does and much more while removing the need for any custom coding, making it the perfect alternative to InfoPath. Built to run anywhere. All without writing a single line of code. Below is a head-to-head comparison between ClaySys AppForms and InfoPath. Take a close look and then try it for yourself. We're here to make it super easy. We'll even build your first application for free to show you the ease and power of what many are calling The Baddest No-Code Platform on the Planet.