ClaySys was founded in Infopark in 2010 when we occupied the Athulya building at Infopark, Kakkanad. We were less than 20 people in size when we first started, and we have now grown to over 250 people working out of Infopark, Kakkanad.
ClaySys has 250+ Employees at Infopark Kochi today, and to support our growth, we have invested in setting up a next-gen IT Campus at Infopark Phase 2.
Cutting Edge Construction Technologies
The ClaySys Campus was constructed using next-generation construction technologies, that have been utilized in Kerala for the first time, to facilitate an IT Office Building built with heat insulation specifications exceeding an R-Value of R20, to ensure energy efficiency best suited for 24/7 air conditioning. With our heat insulation specification of R20, we require less than 30% of the energy for air conditioning, as compared to traditionally constructed buildings without heat insulation.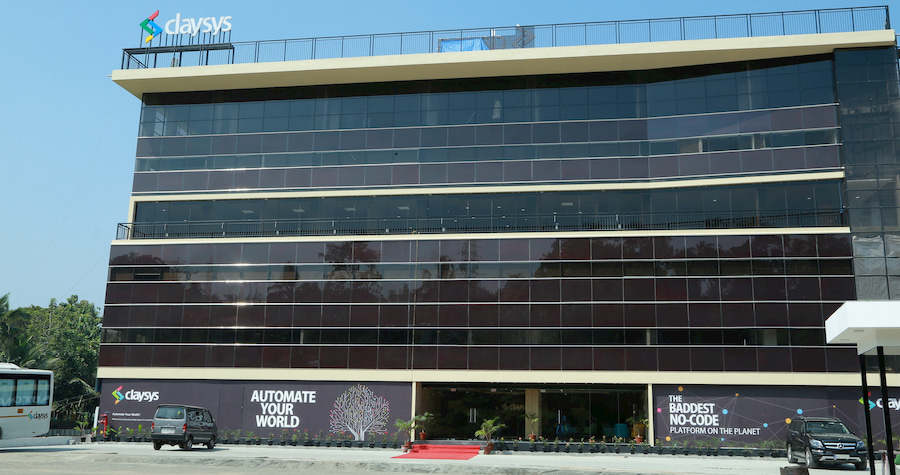 The ClaySys Campus is one of the first buildings in India that has been built with a Solar Panel Glass Façade. The entire building façade is enclosed in Solar Panels generating in excess of 50 Kilowatts of power, which addresses more than 30% of the energy requirements of this building.
The entire design, development, and construction of the ClaySys campus were executed by the in-house ClaySys construction team, from our sister construction company ClaySys Lifestyle Pvt Ltd.
Image Gallery
What We Have Been Able To Achieve So Far
ClaySys brought to market the leading NoCode/LowCode Software Application Development platform called ClaySys AppForms, which is a next-generation platform for building business software applications.
ClaySys is in the 'Automation Technology' space, where NoCode/LowCode Software Application Development enables delivering software to the business 10 times faster, with exponentially better security, and ease of ongoing maintenance.
The ClaySys AppForms platform also has an RPA (Robotic Process Automation) Module built into it, which enables automating many manual tasks using Software Robots. A Software Robot can automate most of the manual data entry tasks done by humans and is at the leading edge of automation technologies today.
The current industry projections are then more than 50% of the existing white-collar jobs will be automated using such technologies.
The ClaySys AppForms platform already has several key international clients across multiple vertical industries like Banking and Financial Services, Healthcare, Manufacturing, Energy, Professional Services.
Some of our Fortune 500 clients are WellsFargo Bank, JP Morgan Chase, ExxonMobil, 3M, Facebook, Deloitte, Atlantic Health System, and CVS, and we have many other clients amongst the mid-sized international companies as well.
On 9th January 2020, we inaugurated the first building in our IT Campus, which will be followed by 2 more buildings to complete our Technology Campus. On completion, the ClaySys IT Campus will accommodate more than 3000 techies at Infopark Phase 2.
The ClaySys IT Campus is designed to provide an embedded club and recreation center within the office itself, to provide the right work-life balance for our staff. Being an international company, we have staff working at odd hours to support clients around the world, and having the right facilities at the office, ensures the appropriate options for leisure activities while in the office itself.
Vinod Tharakan is the Managing Director of ClaySys, and the other Directors present for the inauguration were Dr. Manoj Tharakan, Dr.Naguesh Gaunekar, and Mrs. Thresiamma Tharakan.
Media Mentions
https://www.mathrubhumi.com/ernakulam/nagaram/article-1.4429601
https://keralakaumudi.com/news/news.php?id=221853&u=local-news-ernakulam
https://www.sathyamonline.com/business-news-infopark-295714-2/
https://www.infomagic.com/news/latest-business-updates/claysys-kochi/36/46380